Marine Services
There is almost no limit to the services available in Chaguaramas or elsewhere in Trinidad. Skilled workers can be found in almost any trade. Many are associated with a particular yard/marina, while others work independently. The problem is often finding a spot on their always busy schedule. The link below lead to a list of workers by location and trade.
Marine Businesses sorted by Yacht Yard or by Specialty - On this page is a list from the database that can be used to display businesses by the services they provide and/or by the yacht yard they are located. Businesses not affiliated with a yacht yard are listed independently.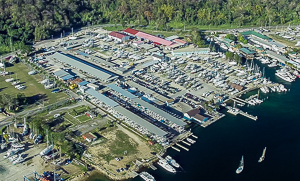 Chandleries
Chaguaramas has a number of excellent full service Chandleries. Their stocks are often different, so if you cannot find it in one place it can be found in another. There are also a number of specialty Chandleries that have a good selection concentrated within the area./p>
Budget Marine is likly the best known and most popular Chandlerie. It is located just outside of Skinner's Yard and not too far from Power Boats. They have a full selection of parts.
Located in the main building, straight ahead as you come in the main gate. They also have a wide selection of parts and often have a much different selection than Budget Marine.
Power Boats - The Boaters Shop
Crew's Inn - Dockyard Electrics Ltd
Coral Cove - Majestic Coatings and Supplies Ltd.
For more details, see the Table on the services table page.
Getting Work Done
For many cruisers arriving in Trinidad from the US or Europe for the first time with work to be done, the process can be daunting. The first step in selecting a contractor is to ask the yard and/or fellow cruisers for recommendations. Take the very bad (or very good) recommendations with a grain of salt.
The second step is to decide exactly what you would like done. The more specific the task is defined the better. Here a written plan is good.
Then sit down with one or more contractors and go over the work. You should come away from this meeting with a firm statement what they think the work entails, a price, a schedule, what is not included in the estimate, and any issues that may make problems in completing the work. In many complex tasks, they will not be able to provide answers as they will not know the issues until a certain amount of work is done. Here you will need to determine whether the contractor is not familiar with the work proposed or they are being cautious due to long experience.
Finally, let the selected worker proceed. On major work, some sort of a written contract is suggested. Some Yards require one.
Importing Parts
While a large range of parts is available in Trinidad, there are always some that are not. There are two basic options for getting parts shipped in: freight container shipped in by sea or air freight. Marine Warehouse located in Tardieu Marine has a container coming down about once every two or three weeks.
Package delivery involves either one of the major carriers (FedEx, DHL, or others) or one of the several smaller firms that specalize in internet shopping for locals. E-zone is one that is freqently mentioned, but there are others. A Google search will provide other firms. Check with other cruisers for their first hand experiences.
In either case, make sure that the package is marked "Yacht in Transit". You will have to deal with the hassle of Customs. See the entry under customs for further information.