Navigation & Hazards
From Points North:
From Grenada
The bays on the south coast of Grenada usually require some daylight to negotiate an exit through their protecting reefs. This suggests either a very late afternoon arrival or more typically an early morning arrival after an overnight sail.
From Carriacou or farther north
The sail down from Carriacou or points farther north involves an overnight sail and the departure is typically made to make an arrival in Trinidad in the early morning, giving the day to check in and arrange docking. Many boats choose to pass down the east side of Grenada to give them a better sailing angle.
An excellent summery of incidents can be found on the Caribbean Safety and Security Net website. Breaking news can often be heard on SSB. Listen to KPK on 8104 at 8:15 every morning for the latest safety information.
In December 2015, there was an incident of suspected piracy near the oil platforms north of Trinidad. Noonsite Reference The Trinidad Coast Guard has stepped up patrols and has suggested that cruisers file a float plan with them. Information for filing a float plan can be found at - Float Plan Info. North Post Radio can be contacted on VHF Ch 16 or on SSB 2186 KHz (call sign 9YA). They monitor traffic off the north coast of Trinidad and have radar that can pick up AIS transponders at quite a range.
Note: Please remember to close your float plan upon arrival.
From Tobago or an Atlantic Ocean Passage
The sail from Tobago is often a pleasant downwind sail with the west setting current. Arrival in daylight hours is easily arranged. Passages from farther east will round the northeast corner of Trinidad and sail west along the north coast. While it is possible to enter the Gulf of Paria along the south coast of Trinidad, the oil platforms and currents suggest otherwise. The miles saved are few.
Approaching Trinidad
The mountains along the north coast of Trinidad can be seen from many miles at sea. There are three islands off the northwest corner of Trinidad, between Trinidad and Venezuela They guard the entrance to the gulf of Paria (referred to locally as the Boca). The usual yacht passage is between the main island of Trinidad and the first of the outlying islands. It is an easy passage with deep water. it is not easily seen until you are close.
North Post Radio
North Post radio maintains a continuous listening watch on 2186 kHz and VHF 16 for distress calls. They can also be contacted for routine vessel tracking and their strong radios reach most of the way to Grenada.
The Boca
The normal approach to the Gulf of Paria and Chaguaramas Bay is through the Boca de Monos (Boca). It can be difficult to see until you are quite close. A GPS way point near the entrance will help. Once in sight, navigation is straight forward. There is often a strong current flowing through the Boca. It can approach 3 knots at flood or ebb.
Chaguaramas Bay
Once passing the Boca, Chaguaramas Bay opens up to your left. Passing north of Gasparillo Island, you will see the anchorage ahead. Most of the marinas and yards are on the north shore to your left. The customs dock is difficult to spot, but the light house like structure is a good landmark.
Please click on an image to see a larger version or to see related pictures.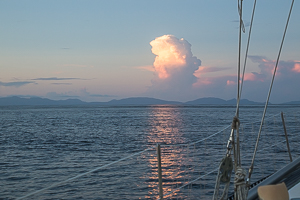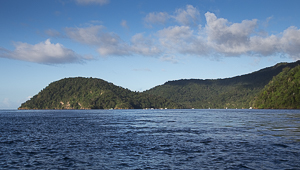 Weather
Trinidad lies south of the normal hurricane paths. From June through November, the island does experience tropical waves that arrive once or twice a week during the peak of the season. The trade winds normally blow from the east-southeast for much of the summer and fall with a backing to the east-northeast as a tropical wave approaches. Squalls are a common occurrence with wind speeds of 5 to 10 knots above the normal peak gusts.
Trip weather planning is facilitated by surface prog (Prognostic) charts and forecast charts available on the Internet as well as GRIB information. Chris Parker provides twice daily SSB weather briefings on (Winter - 4.045 USB, 8.137 USB at 7am AST, Summer - 4.045 USB, 8.137 USB at 6am AST and 8.137 USB, 12.350 USB at 8:30am AST).
There is a current that flows between Grenada and Trinidad. There is GRIB data available, but it often unreliable. There are often eddies that don't appear on the charts. Approaching the Boca you will experience tidal currents of up to 3 knots depending on the phase of the moon. Fortunately they don't last long.
For many, the services and facilities available in Chaguaramas are the most important reason to travel to Trinidad. They are interested in getting there, getting needed work done and storing their boat while they travel home.
Chaguaramas - Here you will find information on services and facilities available in the Chaguaramas area.
Customs & Immigration - Here you will find information on what to expect on arrival, and clearing in.
Facilities - Here you will find details of where to keep your boat, what services are available, how to find parts, and much more. This is the most dynamic portion of the site We strive to keep things up to date, but if you find information that is not or incomplete please let us know.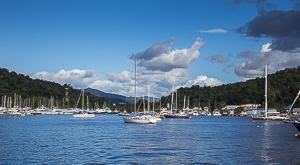 Communications
VHF
There is a morning VHF radio net on CH68 every day at 8am (Currently, November 2, 2022, The net operates Monday through Saturday). Cruisers usually monitor that channel during the day. During times of low cruiser population the net may operate less frequently.
Channels in use by cruisers:
| VHF Channel | Use |
| --- | --- |
| 16 | International Distress & Hailing |
| 68 | Trinidad working & cruiser hailing |
| 06 | Available |
| 67 | Available - low power |
| 69 | Peake Yacht Services |
| 71 | Available |
| 72 | Power Boats |
| 73 | Available - Members Only Monitors |
| 77 | Crews Inn |
Single Side Band
Single Side Band Radio reception is often poor due to the large amount of electrical interference and the hills to the north. It is possible to pick up Chris Parker (see above) and the morning Coconut Telegraph Net (at 8am on 4.060 USB).
Internet - WiFi
Many of the yacht yards provide free (or low cost) WIFI to their customers. In addition, some of the local restaurants provide WIFI. The other alternative is to get a data plan through your smart phone. Both Digicel and Bmobile provide plans. The closest Bmobile and Digicel offices are at The Falls shopping center in West Moorings.