Local Shopping
In this "post Covid" environment, regular shopping trips are begining to be scheduled, but special shopping trips can also be arranged. Call Jesse to schedule a trip.
The "local" shopping Opportunities between Chaguaramas and Port of Spain can provide most of the immediate needs for the cruiser. There are seveal malls, groceriey stores, and hardware stores easly reached by a Maxi-Taxi.
Weekly Shopping Trips
Weekly trips are organized by Jesse to the grocery store at West Mall, that at the Long Circular Mall, and/or Price Smart at the Movie Town Mall. Time is provided to shop for both groceries and to visit the mall. Additional stops are made at specialty food stores, hardware stores or marine supply stores. A morning trip can be made to the market in Port of Spain. The selection of local produce has to be seen to believed.
The current scheduled shopping trips include (assuming a minumum number of people):
The schedule for the shopping trips can be found at: Events
Local Malls
The closest mall to the marinas is West Mall. It is a modern mall and hosts a variety of shops. A short Maxi-Taxi ride along the western main road. A little further along the road towards Port of Spain is Movie Town Mall. An excellent movie theater with reduced price tickets on Tuesdays. Price Smart (a big-box store) is located there as well.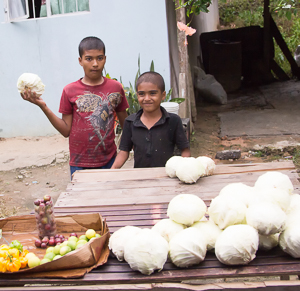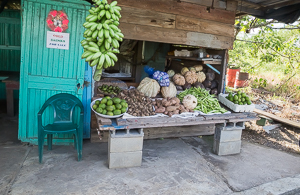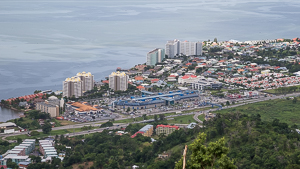 Shopping in Port of Spain and Beyond
Port of Spain
A Maxi ride also leads to Port of Spain. Being a fairly large city, Port of Spain has quite a few shopping options. The downtown area is full of all types of shops selling everything from local foods to souvenirs and clothing. The city is also home to a few open air markets selling crafts and local food items. For serious shoppers, Port of Spain also has several malls and shopping centers. Frederick Street is home to at least three malls, the Aboutique Mall, the Golden Door Plaza, and the Capital Plaza. Port of Spain's Henry Street has at least three malls as well, the Bradford City Mall, Time Plaza, and the Hadeed Center Mall. These two streets alone could keep shoppers happy for hours.
East of Port of Spain
content
South of Port of Spain
content
Malls: Trincity Mall, Grand Bazaar (Chaguanas), C3 Centre (San Fernando), SouthPark Mall (San Fernando), and Gulf City (La Romaine).
Getting Around Trinidad
There are a great number of options to get out of Chaguaramas. They are all accessible and safe.
Jesse James, besides being a wonderful person and advocate for the cruising community, runs a tour and taxi service. His tours are great and should not be missed, especially his "Taste of Trini Tour". He will also arrange for a car and driver to take you any place you need to go and does regular trips to the various shopping malls and stores.
Public Bus - both Maxi Taxi and larger buses
The maxi taxis frequent the Western Main Road in front of the marinas on the north side of Chaguaramas Bay. They come by often and will pick you up and take you into town. Ask the driver to let you out where you need to stop and it is customary to say hello to the fellow passengers. Fares run about 5 TT Dollars (the exchange is about 6.7 TT$ to the US$) or slightly more to Port of Spain.
The Maxi-Taxis are generally air-conditioned 12–25 seat minibuses operate with similar set routes (like route taxis), departing downtown Port of Spain from City Gate; San Fernando from near King's Wharf; and lower Scarborough opposite the port. Hopping a maxi provides a true Trini experience, and is one sure way to get a feel for Trini culture, lingo and their flamboyant personalities. Most play music (sometimes very loudly). Bright colour bands indicate service areas:
© MEP Publishers | Getting around T&T | Discover Trinidad & Tobago
Larger buses also ply the same route but much less frequently. You need to purchase a ticket before you enter the bus. It is good practice to get a few tickets and keep them with you in case you need to take the bus. They can be purchased at many of the small stores in the marinas for about 4 TT$ (2017, exchange rate 6.7 TT$ to the dollar ). More information on Routs and Costs can found - Here.
Returning to Chaguaramas you can catch the bus at the main bus terminal in Port of Spain (ask for directions) or along the way out on the road. At busy hours the buses are often full out of Port of Spain so you may have to wait. You may be approached by a private car offering to take you. They are picking up passengers to make a buck. Ask the price before entering, but it is usually close, to slightly more than the Maxi fare.
Taxis
There are taxis in Port of Spain that are good for short distances, but are much more expensive.
Rental Car
Rental cars can be had in Chaguaramas for about 25 to 35 US dollars a day. They are not in excellent condition but will get you around. If you smell a whiff of diesel in the trunk, it is because cruisers often use the cars to bring jugs of fuel from nearby gas stations.
A good local car rental is in Power Boats: Newton Joseph. He has clean, reliable, good working order vehicles at competitive rates. Convenient location too, as they are right here in Power Boats, Chaguaramus. Phone - 377-9709 or 782-7740.
Personal Safety - Separating Fact from Fiction
With all the misinformation about, it is necessary to mention personal safety. Cruisers read in the news about the awful crime in Trinidad. But, seldom noticed by cruisers, it is largely isolated to a few regions that are not frequented by cruisers, and times of day where cruisers are not out and about. Crime directed at cruisers has been very low to nonexistent. Yes, it is important to avoid some areas, but this is true in most cities.
A good summary report on security is available from the US Department of State, Overseas Security Advisory Council (OSAC) web page on Trinidad and Tobago - see link (search for Trinidad to get most current Advisory). It mentions the areas to avoid as Laventille, Sea Lots, Cocorite, Beetham, the Interior of Savannah, Downtown Port of Spain (after dark), Ft. George (after dark), and all beaches (after dark). None of these areas is frequented by cruisers.